We hope you had a great summer (and if you live in the Southern hemisphere not too cold ). Despite some time off, the team has spent the majority of the summer cranking out new features and fix some bugs for you all. Let's welcome Autumn with a new release!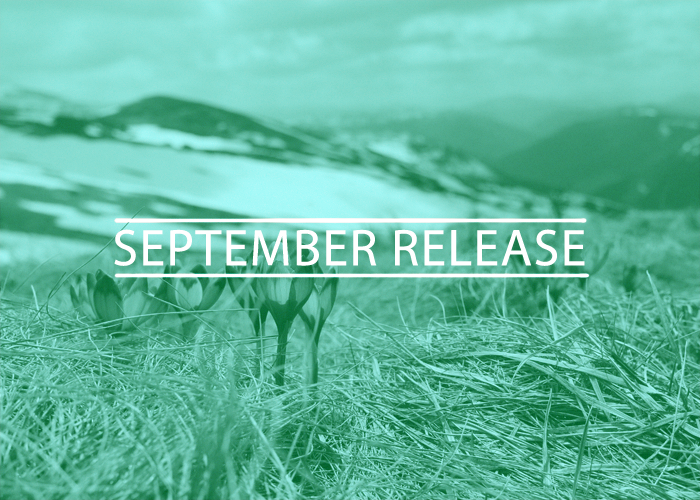 Product type based Commission
You can now assign different commission rate for any product types. For instance, you may want to charge 20% commission for all products that belongs to a "Clothing" type of products and 10% commission for digital goods like music, ebooks and services.
Auto-assigned product delivery per product type
Ability to assigned product delivery (electronic, goods only, and goods w/ attachment) upon Product type creation. This will allow you to enforce what type of products a vendor can upload into the store base on the Type selected.
New Monetization: Membership base on commission, product type and product delivery
You can now earn more money by combining membership and commission with restriction base on product types and product delivery. As store admin you may want to charge vendors commissions base on there membership plan with different commmission rates for different type of products. Examples are the best way to understand the scenario, so let's take a look.
Gold Plan cost $45/yearly
Includes: 5% commission for Digital type of products and 2% for all Shippable goods
In this setup, we combined Membership base Commission, Product type based Commission and Auto-assigned product delivery per product type. The auto-assignment of product delivery in the Types allows store admin to maintain store integrity and prevent store vendors from changing the delivery type manually during product creation in order to get a cheaper commission rate, and display store vendors a pre-define forms in the product creation for Delivery.
3 New Payment Gateways
TeliPass (Thanks to Gaël)
Maximum number of items in the cart
You can now specify the maximum number of items you can add in the cart. Take note that this might not work all the time due to some payment system not accepting more than 10 items.
New price displays
You can now display the price with a new format, showing the cents in superscript , refer below screenshot.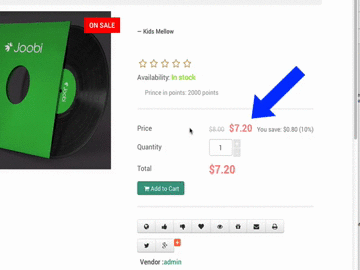 Database Optimization
We added a new functionality that proactively tune and optimize performance issues within the database.
Publishing and Discount Count down timer
You can now add a timer for the product publishing period which display a count down of time left until unpublishing. And a timer for the product discount period which display a count down of time left until when discount is valid.
Product image thumbnail new mouse-over effects
You can now display your products in the listing with 2 new cool mouse-over effects namely Image Zoom and Second Image Effect.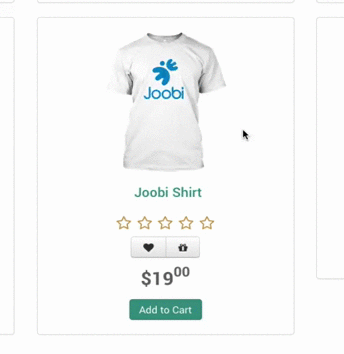 Enhanced Sales Target
Sales target will now show you how many products are left before the target will be reached.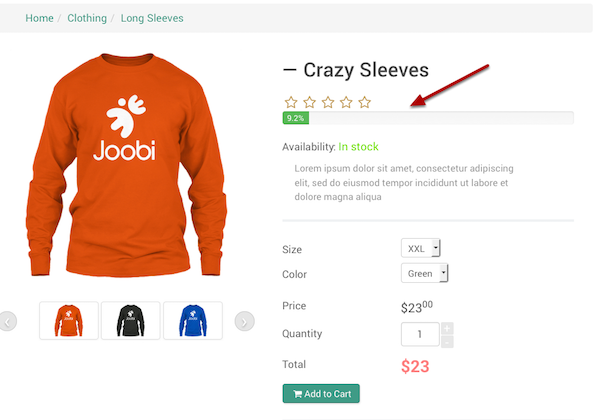 And much more...
You can now define to only display items that has stock availability
Import product image from external source
You can now import product image from an external source using CSV file import functionality
New option in all Joobi module where you can specify individual class prefix and turn on/off caching
Added the logout functionality from the user horizontal menu dashboard so user can logout directly from there account
Improved some HTML structure in the catalog to make it fully customizable by template developers
Display the number of items in all categories including sub-categories
Ability to use 24 hours time format or 12 hours format (AM/PM)
New custom field type called "Custom PHP" if you want to add your own custom PHP code into the field
Item that has the shipping type on a "per product" and "free shipping" now goes to shippable orders
List of vendors - now can be filtered to exclude specific id's
Last but not least, we've crunched over 10 minor bugs that has been reported after June release.
To see the complete list changes in the software, click at the changelog button underneath.
---
How to update?
Easy! Just click "Check" button under jApps (previously jCenter) >> Apps to retreieve the new version, visit the changelog for more update details. We always recommend to do a backup before doing any changes in your production website and ensure you can easily recovery your backup.
New to Joobi?
Evaluate all Joobi Applications before you purchase for Free (No credit card and registration required). Download it here
We hope you like the new additions as much as we do! As always, if you hit any snags with the new version let us know immediately and we'll fix it right up.
---
What else is going on?
jBackup is almost ready. Expect some exciting announcements in this area soon.
Create your own branded short URL with jLinks, checkout our documentation for a detailed setup instruction.
We developed an App for developers called jDesign that allows developers to extend Joobi Applications directly from the site backend. Even better, you can create new dataset, forms, and lists, and safely preserved your code on update—in short you have all freedom to make Joobi Apps just as you need it. Expect some exciting announcements in this area soon.
We are also working on two major development that we aim to introduce this coming November. So stay tuned!