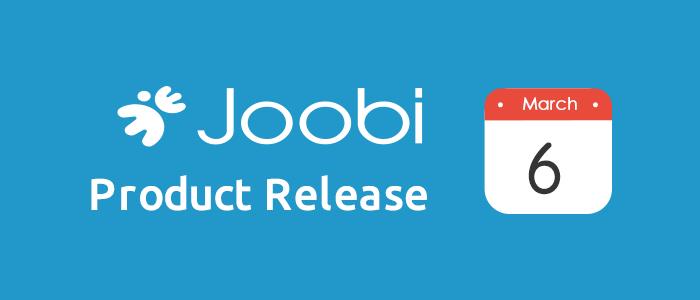 Today's release brings you a couple of often requested features, and few bug fixes.

Let's see what's in today's release.
Country to Country Shipping
You can now handle the Shipping From Country To Country e.g ( From Singapore To Germany ) which allows store admin to setup a shipping rate base on country rather than zones.
SMS Verification
SMS Verification verifies mobile number of users by sending verification code during registration. It removes the possibility of a user registering with fake email address.
Spam Email: block an entire Domain
If you're getting emails you don't want in your inbox (SPAM), you can block an entire domain to send you an email from specific senders with jDefender.
Other Cool Improvements
New SMS gatewayintegration for mobily.ws
Change multiple orders status at the same time
Ability to bulk update the stock quantity of the product
Sales report "data view" now displays the customer email and total product weight purchased
Re-organize and renamed the Joobi products list module to Joobi Items module
We released the (-) hypen improvement in the SEF URL starting jApps 3.1.6 but we roll it back to use (_) underscore in the url because the change created a various reactions from users due to SEF related problems.
Bug Fixes
Subscription trial option disappears if you select time and credit limit.
Pagination in the view all items page result to a page does not exist
---
How do I update?
Requirements
: You need jApps 2.8 to access the new released version. If you are using a version lower than jApps 2.8, please browse the
change-logs
and locate the version you are using and follow each individual update guide.
Website Backup: Your Responsibility!
We always recommend to do a backup before doing any changes in your production website and ensure you can easily recover your backup.
If you meet the above requirements, just wait for an automated email from your website notifying you about the new update (usually it takes a few hours, up to a week after the initial release) so you get a more stable build.
However if you can't wait to get your hands on the new enhancements, just click "Check" button from jApps App manager page.
---
New to Joobi?
Evaluate all Joobi Applications before you purchase for Free (No credit card and registration required). Download it here
We hope you like the new additions as much as we do! As always, if you hit any snags with the new version let us know immediately and we'll fix it right up.
---
What else is going on?
Right now we are working on bringing you a new app that will change the way you send emails and manage your contacts! It's awesome, we can't wait to show you. If you would like to participate in the beta program, please submit a ticket under Beta Program department. All beta testers will receieve a free membership of 6 months.
We are also very close to being able to release the stable version of Joobi eCommerce Apps and Marktplatz theme for WordPress.